Online Options
For Students



My10yearPlan.com®

Unlike other online planning programs, My10yearPlan.com® supports students with a decision-making coach rather than a computerized crutch. As students complete the Career Choices coursework and record their responses in My10yearPlan.com®, the system saves and compiles the data so they can review, revise, and share their plans or easily produce a beautifully formatted 10-year Plan Portfolio report.

This innovative advisory tool allows secure access for teachers, counselors, and advisors to review a student's 10-year career and education plan so they are better able to provide personalized support, help students stay on track, and reinforce their academic and life goals.


Options for Career Choices and Changes Online
There are a variety of online editions that provide the Career Choices series textbook content through My10yearPlan.com®.




Career Choices and Changes Online

If your school has chosen to go paperless while still having instructors involved in course delivery, this is an option. However, there are more online features in the enhanced options below.




Career Choices and Changes Online PLUS

This online edition offers the Career Choices and Changes textbook content PLUS 64 additional instructional video tutorials delivered through My10yearPlan.com®, along with the updated print edition of the 10-year plan Workbook and Portfolio.

This option works well for flipped classroom models where students complete their reading and activities at home before each class session. That leaves class time for higher-order learning, such as directed discussions and brainstorming, projects, presenters, and the new technology skill-building lessons.

The additional 64 videos keep students engaged in the learning process while learning online, and the print workbook gives them a place to draft their initial responses to activities and to make notes before finalizing their thoughts on My10yearPlan.com®.




Career Choices and Changes Online PREMIUM

Everything included in Career Choices and Changes Online PLUS with the addition of 15 chapter quizzes with automated scoring, as well as automated reports that make it easy to track student engagement and completion.

Students can work at their own pace with little to no instructor supervision with this option. This is ideal for independent study courses and those special circumstances where students can't attend class. It allows students to learn everything in the curriculum on their own with videos, readings, and self-assessments.

The built-in grading tools—along with login history and time-on-task tracking—make it easy for the instructor to manage a number of independent study students as a part of their teaching load without sacrificing the ability to engage students with meaningful personalized communication.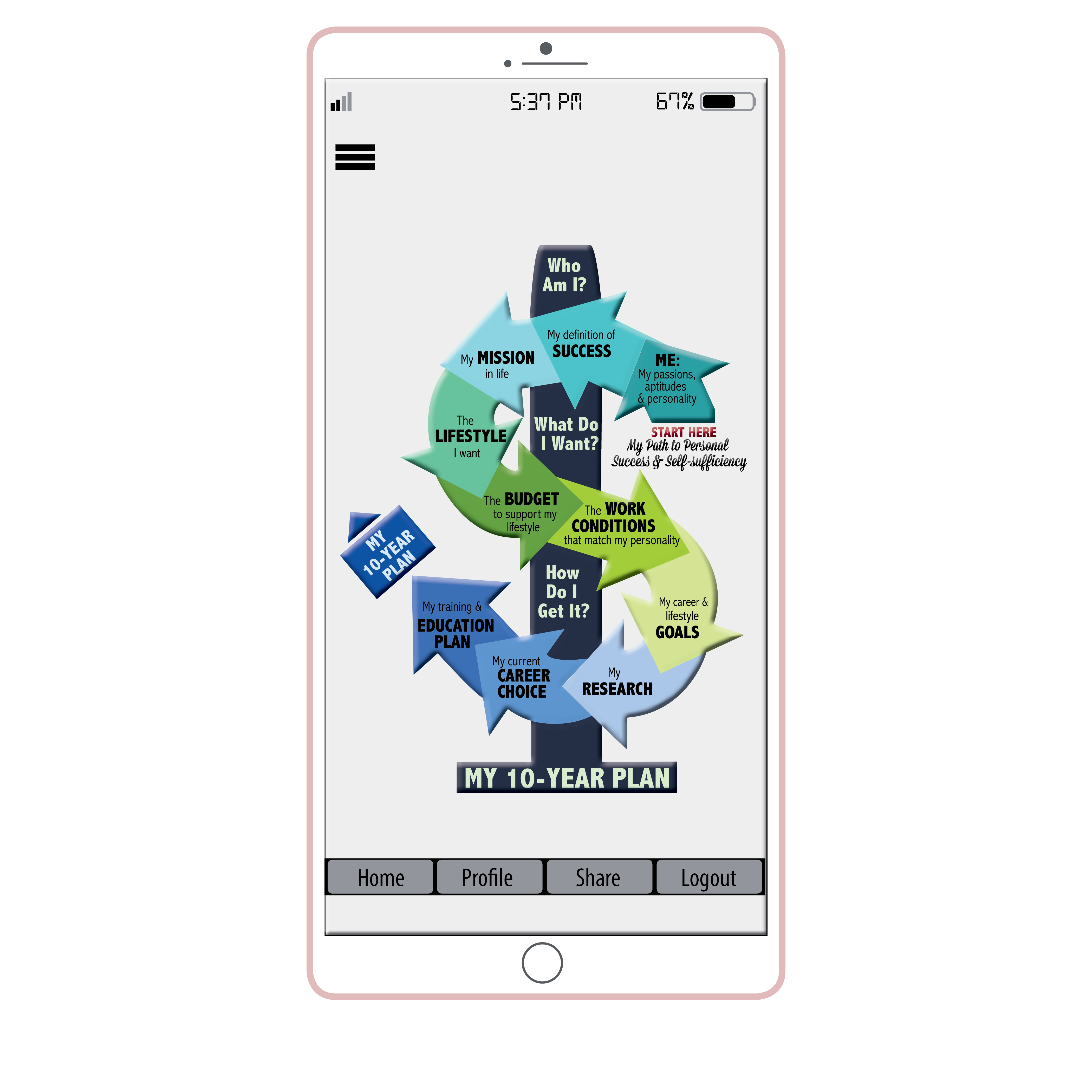 My10yearPlan.com® Mobile App At the end of the course, when they complete their work online, students have the option to download the My10yearPlan.com® Mobile App, which will be populated with key information from their 10-year Plan Summary Page. The Summary Page is a compilation of the work they did throughout the course, formatted into an easy, quick-to-read plan.

With their plan in their pocket as a constant reminder, students will move through their decade of transition—from high school into post-secondary education or training and on to the workforce—with a tool that allows them to continue the process they learned in their Career Choices course.

The online format of My10yearPlan.com® and the My10yearPlan.com® Mobile App allows students easy access so they can continue to update their goals and plans as they experience new things, learn more about who they are, and refine their vision of the future.
LifestyleMath.com This online correction tool lets students check their personalized mathematical calculations from
the Lifestyle Math workbook as they develop a budget for their desired lifestyle at age 29.
For Teachers
The Teachers' Lounge Academic Innovations' online professional development site for the Career Choices curriculum
utilizes technology to give you the flexibility to take advantage of a variety of professional
development resources and opportunities.

Online Class Meeting Agendas for Your Career Choices Series Course' Lounge We've done a lot of the planning for you with a series of class agendas that will help with the remote delivery of your course.

These step-by-step agendas provide a roadmap for online class sessions with detailed recommendations and resources to ensure both your students are engaged and learning at the same level as if you were in the classroom together.
This resource is included with your membership to The Teachers' Lounge.
Register today to gain access to: