Integrate Academics & Guidance
With

Award-Winning

Texts and Online Programs
That Have Impacted More Than 2.5 Million Students
Available for Online-Only Delivery Through My10yearPlan.com®
"Career Choices received a Promising Intervention Award from the U.S. Department of Education in recognition of its effectiveness in reducing dropout rates and supporting higher achievement in reading and math."
Proven Interdisciplinary Curriculum
Freshman Transition Courses
Freshman Academies
Career Academies or Pathways
First Year Experience programs
Summer Enrichment programs
Dropout Prevention Efforts
Academic Coaching & Advisory
Get Focused...Stay Focused!® Programs
Hybrid or Online-Only Delivery
Create an Employability Mindset with Winning Combinations
Think! Re-Think! Adapt! Edit
The learning process begins with the Career Choices series text. Students engage with the content––in print or online––and engage in instructor-led discussions and activities before they record initial responses to the exercises in their student workbook.

Using work completed in the workbook as a draft, students can reflect and process what they learn before transferring their thoughts to the corresponding section of My10yearPlan.com®. This valuable step gives students time to review, edit, and polish that draft, reinforcing the writing process as they create a researched and personally meaningful 10-year Plan and, unlike other online planning programs, providing learners with a decision-making and planning coach rather than a computerized crutch.
If you need to go paperless:
Career Choices and Changes Online PLUS embeds the textbook and additional video content into My10yearPlan.com®
Ideal for independent study, Career Choices and Changes Online PREMIUM includes:

76 video tutorials
15 chapter quizzes
Engagement and progress tracking tools that benefit both the self-directed learner and supervising instructor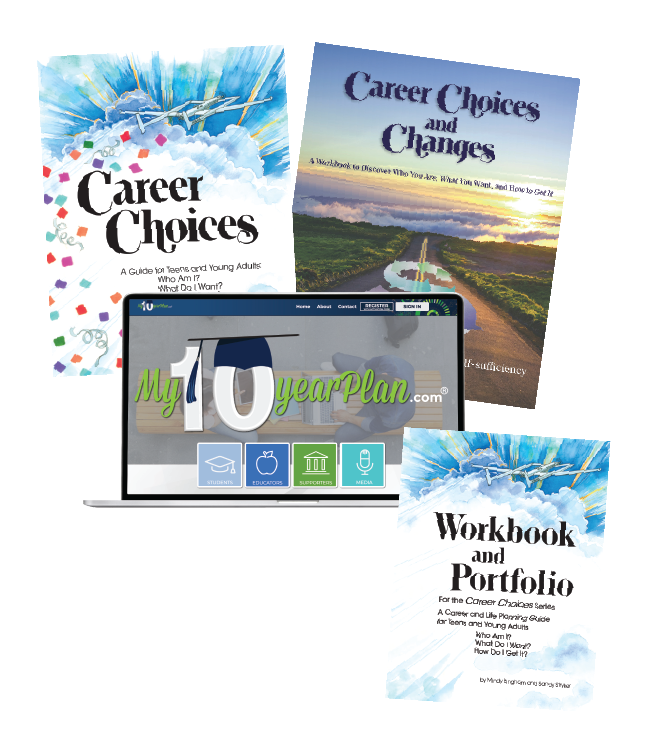 Expand Your Course to Include Possibilities
A semester or year-long class housed in the English department
A team teaching opportunity for the English department and school counselors, career instructors, or the family and consumer sciences department
Two integrated classes––a freshman transition class coupled with ninth grade English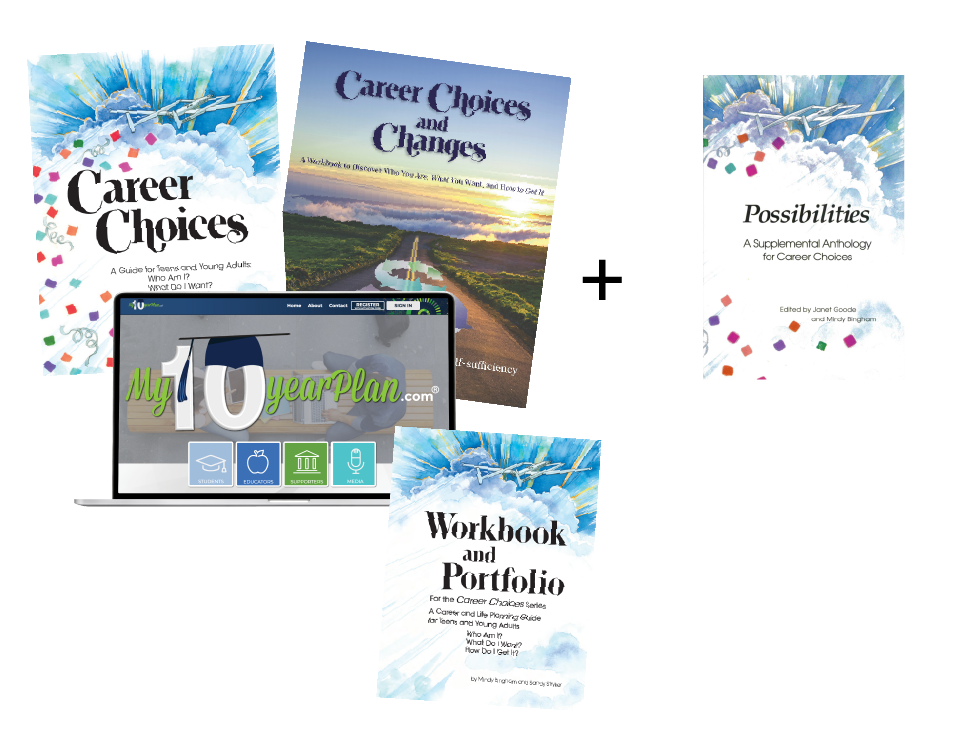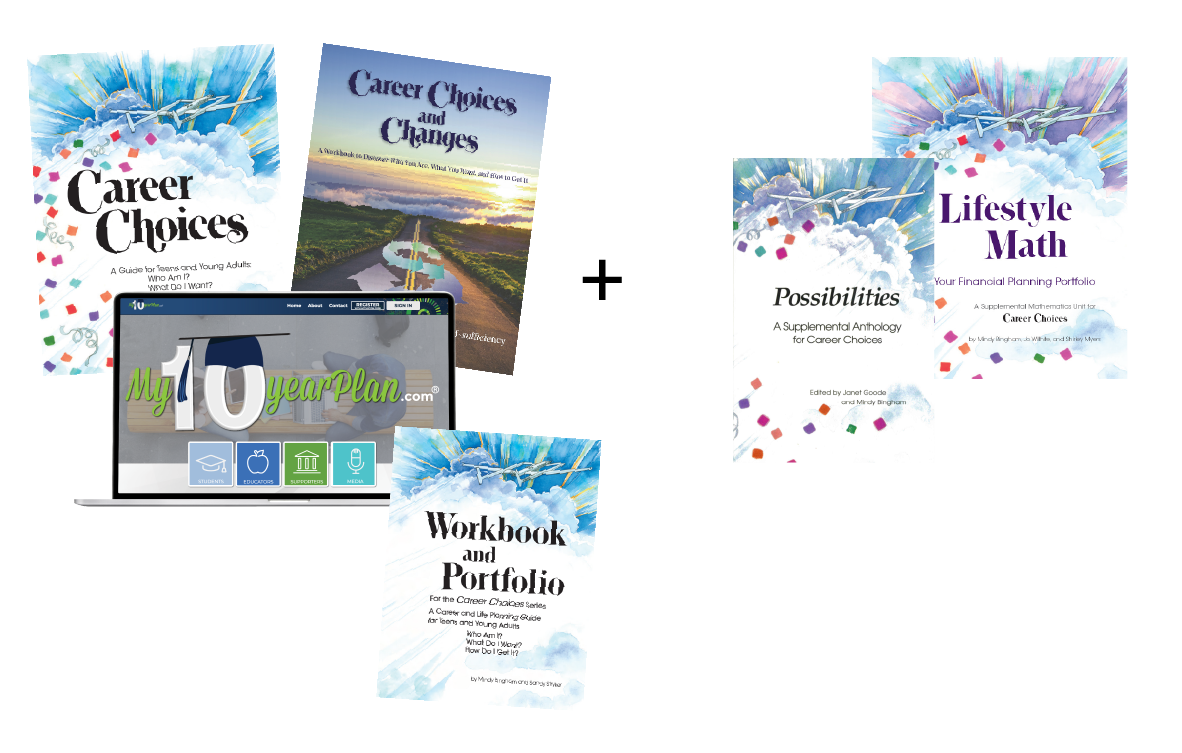 Discover a PROVEN, Classroom-Based, Comprehensive Guidance Course & School-Wide Program to Launch Your Students into a Life of Self-Sufficiency
"...[the] goals that are established in the 10-year Plan then form the foundation for our guidance counselors and our teachers to take those plans forward and continue to have those meaningful discussions with our students…"
The Career Choices series text has more than 100 learner-centered exercises and activities, leading students through a process that culminates in the development of a personalized, career-inclusive 10-year education plan. This award-winning contextual learning curriculum presents life skills and career exploration in a friendly, inviting format. Its motivational activities enliven reading, writing, and math while providing a vision and plan for a productive future.

Whether they READ the Career Choices or Career Choices and Changes content in a print format or using our paperless option, this evidence-based comprehensive guidance experience is something students will find inspiring, intuitive, and empowering.

Providing additional emphasis on reading and math is easy when you include Possibilities and Lifestyle Math, and the Instructor's and Administrator's Guide gives your team everything they need to implement quickly.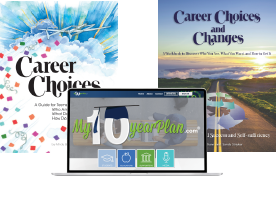 The Workbook and Portfolio provides a permanent record of each student's career and life-planning goals. This low-cost consumable workbook replicates each exercise from the main Career Choices text.

Students RESPOND to proven prompts and activities that help them process the foundational information they read in the textbook.

Research shows that the act of writing by hand allows students to engage in a more deliberate thought process as they build critical thinking skills and make plans for their future.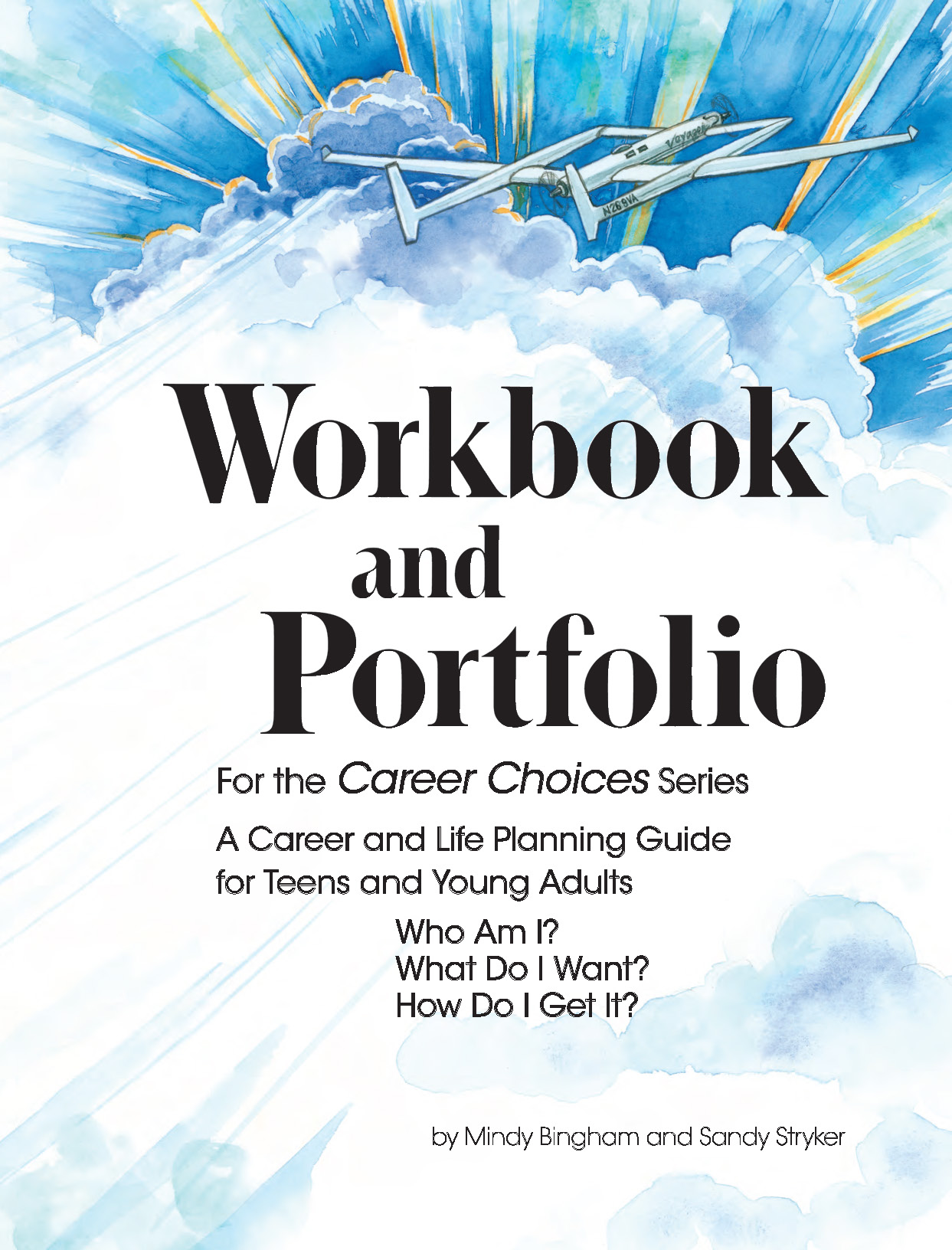 My10yearPlan.com® expands the Career Choices experience by providing students with a mobile record of who they are, what they want, and how they plan to get it. One seat license is included with the purchase of each Workbook and Portfolio.

Whether it's the hybrid or the online-only delivery, My10yearPlan.com® coaches students as they REFLECT on their draft responses and plans. As students refine their thinking and polish their responses using My10yearPlan.com®, they produce powerful artifacts of their learning:
The online format of My10yearPlan.com® allows students easy access so they can continue to update their goals and plans as they experience new things, learn more about who they are, and refine their vision of the future.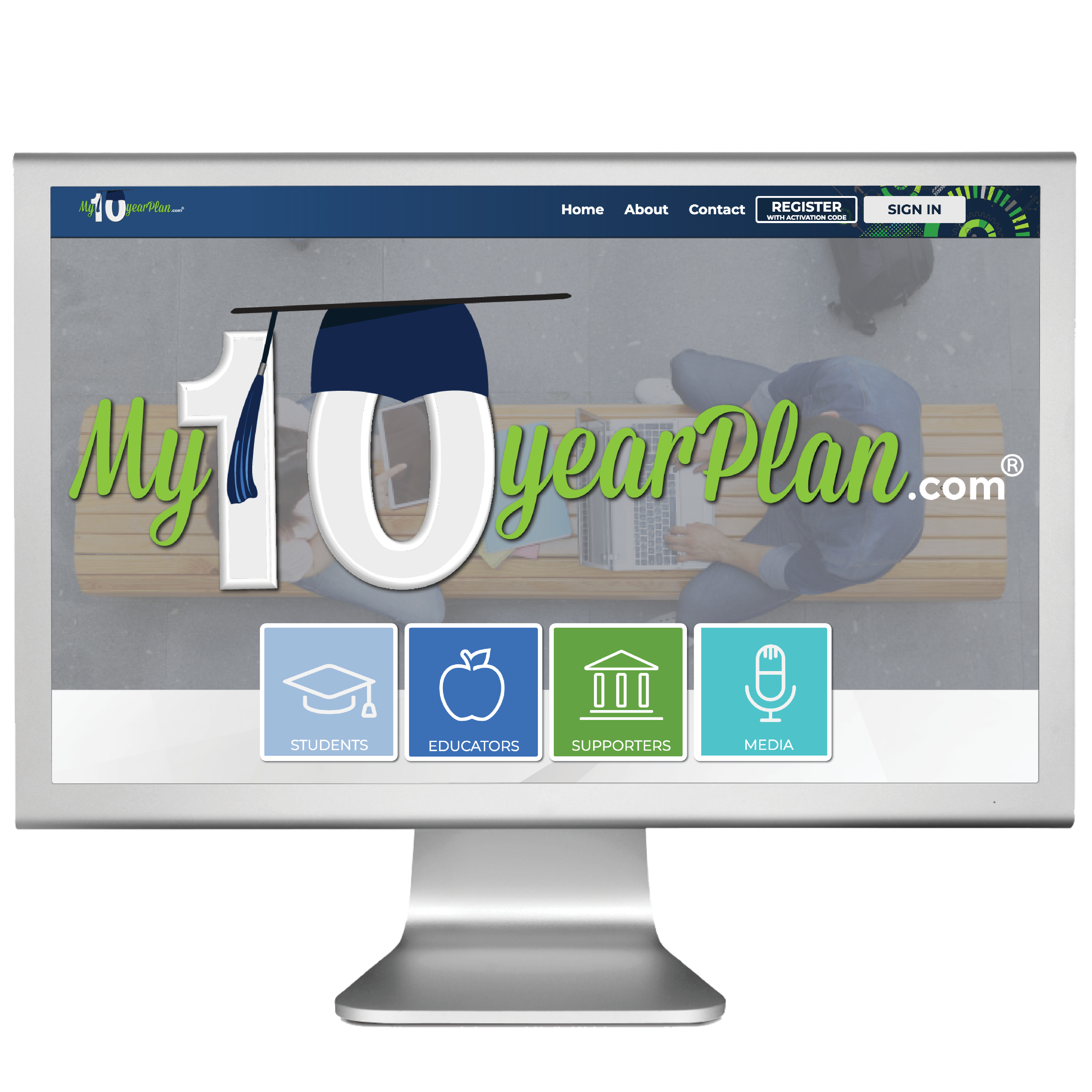 Once a student has completed the Career Choices series process and their online 10-year Plan, students can download the My10yearPlan.com® Mobile App as an easy way to REVISE, update, and share the key information from their 10-year Plan Summary Page with teachers, advisors, parents, and mentors.

Available for iOS and Android devices, the app allows students to access their existing My10yearPlan.com® account on the fly in advising sessions, when selecting courses, or as they finalize education and training plans.

With their plan in their pocket as a constant reminder, students have a tool that allows them to continue the process they learned in their Career Choices course as they move from high school into postsecondary education or training and on to the workforce.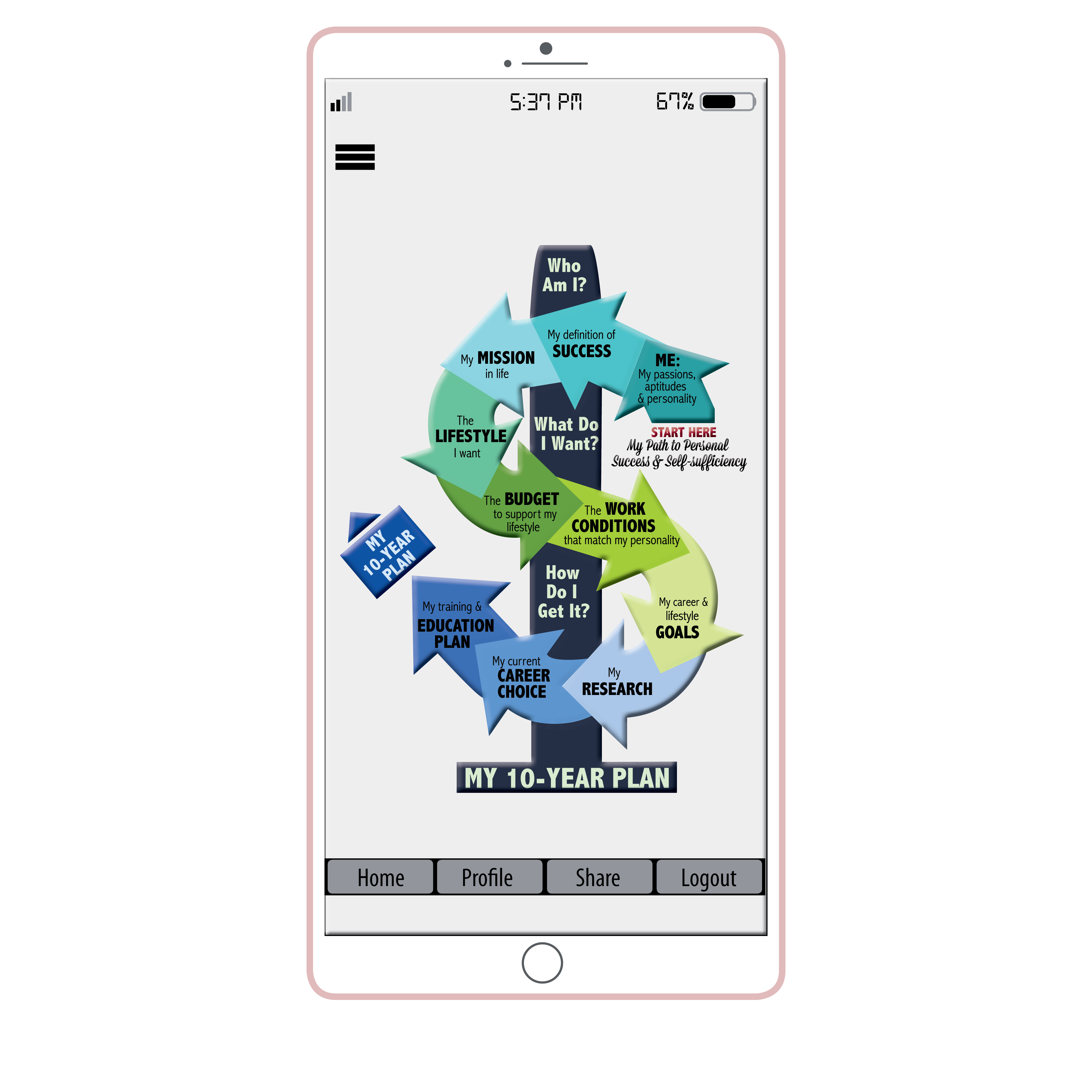 Changing Attitudes & Changing Lives Since 1990